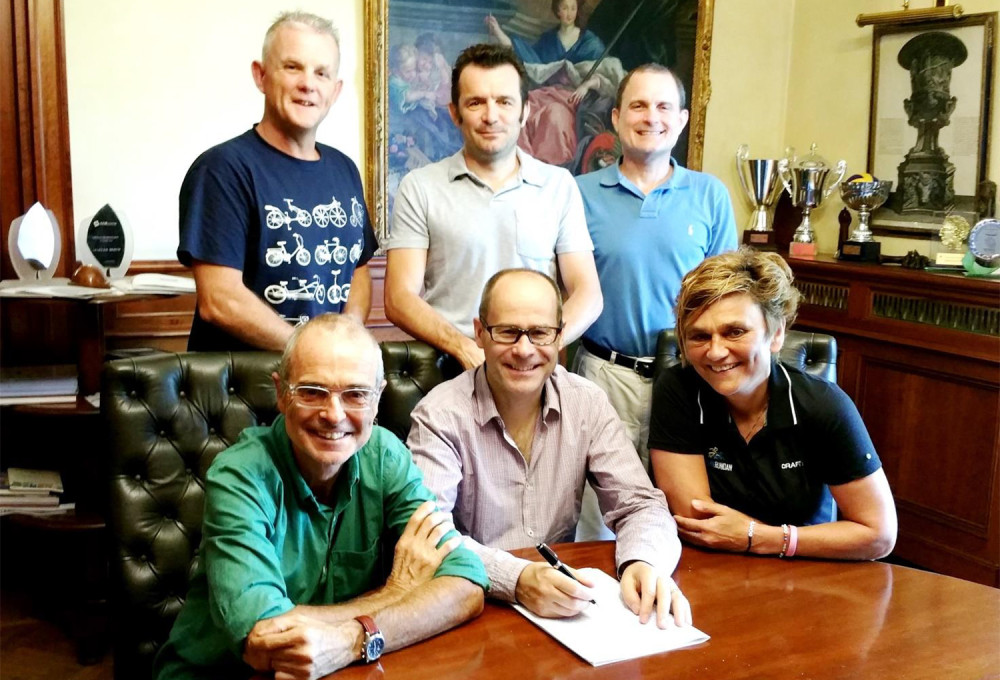 From Left Front: GIANLUCA SANTILLI, Vice President (Granfondo Campagnolo di Roma), HUGH BRASHER, President (RideLondon), EVA-LENA FRICK, Former Vice President (Vatternrundan). From Left back: DAVID BELLAIRS, Board Member (Cape Town Cycle Tour), MATTEO GEREVINI, Executive Director, ANDREW GOULD, Board Member (TD Five Boro Bike Tour).
Who we are
WACE is an association of cycling events formed to promote and increase cycling around the world.
The Association was formed in Rome on 24 July 2015, and the chartered members of the Association are five of the most prestigious and largest mass participation events in the world: Cape Town Cycle Tour (Cape Town-South Africa), the biggest timed cycle event in the world, TD Five Boro Bike Tour (United States), 32.000 riders on closed roads in New York City, Vatternunrnad (Motala-Sweden), 300 km and over 20.000 participants for one of the longest and oldest mass participation event in the world, Prudential RideLondon (United Kingdom), the world's largest cycling festival with more than 95.000 participants, and Gran Fondo Campagnolo Roma (Italy) a cycling experience in the Eternal City.
WACE has been formed to promote and increase cycling worldwide: with more than 200,000 participants from 110 countries riding in WACE events each year, the new organisation is ideally placed to inspire new riders to take up the challenge of cycling and to encourage riders to travel to participate in other world class cycling events, and more major international cycling events are set to join WACE in the future.
Mass participation cycling events are more popular than ever before and by promoting our events internationally we are looking to inspire new riders to take part to these events. Cycling in WACE events brings health and physical benefits, a better lifestyle, social opportunities to meet new people and the chance to experience cities such as Cape Town, London, New York and Rome or to ride in the Swedish lakes area.